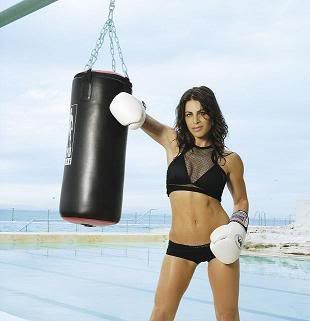 Shows like The Biggest Loser with two teams of overweight people competing, a weekly weigh in and a winner is most entertaining, but very unrealistic.
The Reality of Reality TV is Unrealistic. I get lots of email from peeps with unrealistic weight loss goals due to general ignorance but quickie celebrity weight loss and reality TV isn't helping. Even personal trainers like Jillian Michael's can be confusing if you don't realize that although she's had weight problems she's been kick boxing for 3 decades to get her bod, not 30 days.
Behind the Scenes an ex contestant of the biggest loser has let it rip it's rarely talked about but the contestants do a shocking amt of exercise every day. They go 4 hours a day, 6 days a week which is a total of 24 hours a week so if you workout 6 days for 30 minutes then the contestants workout more in 1 day then you do in a week. Most people would have to be an unemployed actor, actress or model to workout that much. Contestants also had serious lock-down and were monitored every day.
Contestants were expected to lose 1 lb a day although the healthy approach is 1-2 lbs per week. It's also easier to lose more weight each week if one is 50-150 lbs over weight so one should not set the same goals if they need to lose 30 lbs or less. The least of my readers need to lose 5-10 lbs to be a healthy weight. the majority of you are a healthy weight or less yet want to lose more weight. Ideally losing 1-2 lbs a week is a healthy goal and if weight isn't loss or gained that's normal too. Lots of people create lean muscle and need to track progress with a measuring tape not a scale. The best progress of all is feeling good about yourself so the worst thing to think is losing 1 lb a week is bad due to peeps losing so much on TV. Remember shows don't mention they film for 14 days in between weigh ins so it may look like things happen in a week as far as TV is concerned, but that's deceiving.
The Great Thing About The Biggest Loser is 3 out of the 4 hours of crazy workout is dedicated to cardio which is great message during this lose weight with weights and circuit training trend. One great tip, especially for the over weight, is lifting weights is great but spend at least 30 minutes on cardio burns crazy fat so find a fun cardio workout that works for you.
Summary: TV shows, actresses and models are great thinspiration but don't compare your progress to these people's crazy results. If you aren't getting paid to get fit then why act like it? Celebrities would not be losing weight in record speed if they weren't a celebrity? Trust me, no one works out to the point of tears without extreme pressure to do so. All you have to do is give yourself time so bump TV. It's a joke. It isn't real so please believe in yourself and hang in there and if you feel like giving up email me first.
XOXO My Butterflies!!!