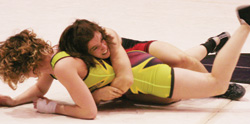 Weight Cutting:
The practice of rapid weight loss prior to a sporting competition. It most frequently happens in order to qualify for a lower weight class (usually in combat sports, where weight is a significant advantage) or in sports where it is advantageous to weigh as little as possible (most notably equestrian). There are two types of weight cutting: One method is to lose weight in the form of fat and muscle in the weeks prior to an event; the other is to lose weight in the form of water in the final days before competition.
Methods Include:
Severe dehydration, caloric restriction, diuretics, diet pills, laxatives, rubber exercise suits and vomiting. Wrestling accounts for almost three in four instances of eating disorders among male athletes.
Coleman's Story:
Shorts, long johns, pants, sweats, snow pants, undershirt, tee, sweater, hoodie, jacket, two hats, one scarf and a pair of gloves, and senior wrestling co-captain Alan Coleman is ready. In the next 45 minutes, Coleman will sweat off five pounds. He will climb 60 flights of stairs on nothing but a tablespoonful of peanut butter and a mouthful of water, gargled during yesterday's practice to convince his throat he's getting rehydrated, then spit out to prevent water weight. At 3:30 p.m., the naturally 150-pound athlete will be 135 pounds. Coleman will make weight for his meet; he always has.
Nguyen's Story:
Over the course of two days in 2002, Nguyen went from 112 pounds to 105 pounds. He worked hard at practice, wearing sweat clothes to keep in the heat; he came home to a cup of plain lettuce (his only meal for the day) and another workout (treadmill, draped in a plastic bag); he spent days at the YMCA sauna sweating off pounds.
Those two are burning mainly water and water weight always returns. This isn't fat loss but water loss done just so they can play a game thats all.