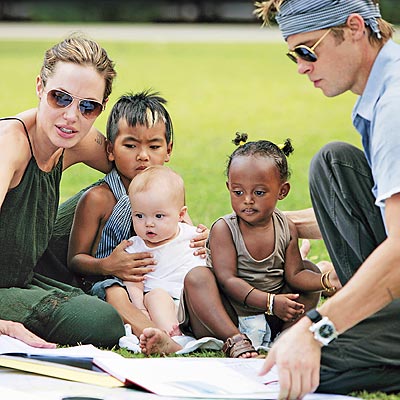 The buzz about town is not just about Brad and Angelina's latest adoption but about Angelina's plummeting weight, yet again. This time Brad, James (her brother) and Angelina's father are worried for the stars health. The death of Angelina's mother devastated the actress, so to cope she's been doing things to take her mind of her loss. Sources say it's been all about her kids and her work. She hardly pays any attention to herself and it shows. Then to make matters worse, being known as the women who stole Brad from America's sweetheart isn't a title that sits will with her at all. She also has the added pressure of the vow she made, to never marry again. After two failed marriages, a vow like that would seem like the right way at the time, but she's with Brad n

ow.

Brad is unlike any man because of his status with her children. I guess if she could change her mind about giving birth to a child she could change her mind about marriage as well.
Stress can be a natural appetite suppressant for some people and the cause of an over active appetite, especially at night, for others.